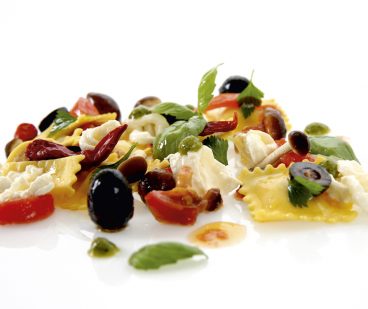 2h
Moyen
2 persons
Ingredients
For the pasta:
200g of pasta dough rolled half a centimeter thick
1 Burrata (200g) drained and cut in cubes
30g of fresh grated Parmesan
Nutmeg
Salt and freshly grinded Pepper
1 egg yolk (beaten)
For the sauce:
20ml Extra Virgin Olive Oil
2 Garlic crushed cloves
5g of Oregano
10g of chopped Parsley
3g of red chilli powder
60g of black pitted olives
300g of chopped tomatoes
150g of sliced mushrooms
Salt and Pepper to taste
For the garnish:

Preparation
In a bowl, mix the Burrata, Parmesan, nutmeg, salt and pepper.
Cut the pasta dough in 5 cm disks.
Spoon a small quantity of the mix in the middle of each disk, apply a thin layer of the eggs yolks on the edges of each disk and fold in two so each disk are now half circles. Press the edges firmly and make sure the mix stay in the middle.
Cook the Agnolotti in boiling salted water, these will cook quickly (2 to 3 mins)
In a pan sauté the garlic, oregano, parsley and chilli in olive oil.
Add the olives, tomatoes, mushrooms and simmer for 30 minutes. Season to taste.
Drain the Agnolotti, set in bowl and add the sauce and mix.
Garnish with the basil leaves and serve hot.
Back to results