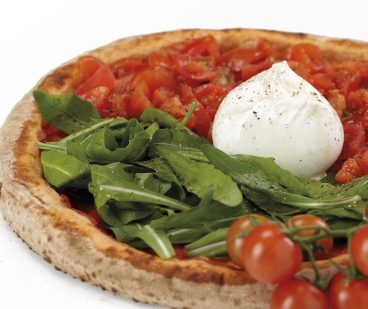 4h
Moyen
6 persons
Ingredients
For one pizza: 
For the dough:
300g of white bread flour
150ml of lukewarm water
10g sachet of yeast
2 teaspoon of salt
1 pinch of sugar
Extra Virgin Olive Oil
For the garnish:
8 Cherry Tomatoes, sliced or cut in cubes
1 Burrata (200g)
Rocket Salad, whole leaves or chopped
Salt
Oregano
Extra Virgin Olive Oil
Preparation
Dough preparation:
Set the flour in a bowl.
Disolve the sugar and yeast in the lukewarm water and add to the flour.
Mix until all the water has been absorbed and then knead until the dough for a few minutes.
Add a tablespoon of olive oil and the salt then knead until the dough is smooth and elastic.
Sprinkle a bowl with flour and set the dough in for raising until it has doubled in size (about 2 hours).
Cook the pizza:
Once raised set the dough on a flat floured surface and roll until it's half a centimeter thick.
Oil the pizza baking tray and set the dough in.
Preheat the oven to 200°. Oil the dough and cook for 20 mins, until golden.
Remove the pizza from the oven.
Garnishing the pizza:
Put the tomatoes on half the pizza and the rocket on the other half.
Set the Burrata in the middle.
Sprinkle with Oregano, salt, pepper and olive oil.
Back to results